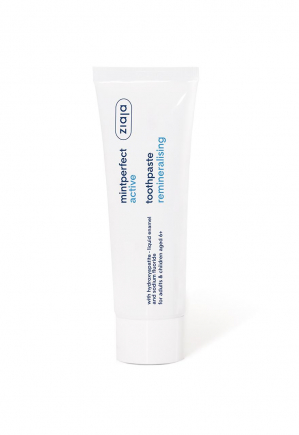 active remineralising toothpaste
Mintperfect active remineralising toothpaste with liquid enamel – hydroxyapatite and sodium fluoride. Effectively cleans teeth, seals, protects and smooths the surface of teeth, hardens the tooth enamel. Reduces irritation of gums mucosa and protects against acid attacks and tooth decay. Silica thoroughly cleans plaque and restores the natural whiteness. Combination of mint and eugenol aroma provide pleasant feeling of freshness. Contains 0,15% of fluoride.
How to use
Brush thoroughly at least  twice a day, do not swallow. If using flouride supplements, consult your dentist or doctor.
INCI
Calcium Carbonate, Sorbitol, Aqua (Water), Hydrated Silica, Sodium Lauryl Sulfate, Titanium Dioxide, Sodium Fluoride, Calcium Glycerophosphate, Cellulose Gum, Sodium Saccharin, Aroma (Flavor), Eugenol, Limonene, Citric Acid.
The list of ingredients is consistent with the current state of manufacture as of 2020-10.
MAIN INGREDIENTS
colloidal silica, fluorine