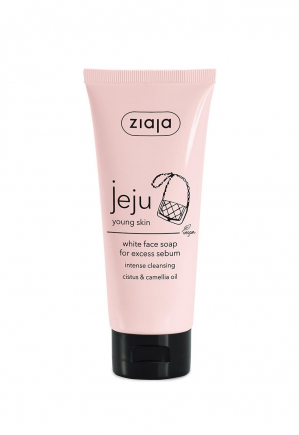 For
age: 12+
skin: all types



white face soap for excess sebum
White paste of thick consictency. Contains biodegradable exfoliating substances. Based on delicate washing ingredients. Has natural pH. Gently but effectively washes. Removes impurities and degreases the skin. Unblocks the skin of excess sebum and supports the reduction of acne lesions.
How to use
Apply soap on hands or face cleansing brush and wash face with water. Rinse off. Avoid eye area. May be used daily.
INCI
Aqua (Water), Stearic Acid, Potassium Hydroxide, Coconut Fatty Acid, Glycerin, Citric Acid, Ceteareth-20, Cetearyl Alcohol, Isopropyl Myristate, Sodium Hydroxide, Betaine, Camellia Japonica Seed Oil, Propylene Glycol, Cistus Incanus Flower/Leaf/Stem Extract, Parfum (Fragrance), Limonene, Hexyl Cinnamal.
The list of ingredients is consistent with the current state of manufacture as of 2020-10.
MAIN INGREDIENTS
glycerin, camellia oil from korean Jeju Island, cistus extract


For
age: 12+
skin: all types